School News
Congratulations to Kieryn McHale!!
Posted on

November 23rd, 2015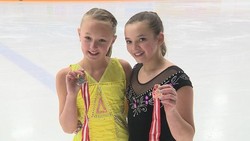 LETHBRIDGE- The Lethbridge Figure Skating Club is celebrating once more after a couple of team members gave stellar performances between Nov. 5 and 8.
Brooklyn Watmough (bronze) and Kieryn McHale (silver) earned medals at the recent Skate Canada: Alberta, Northwest Territories, Nunavut sectional championships in Calgary.
Watmough said the experience was great and the competition was steep.
"I skated a pretty good program, but a lot of other girls skated their hardest too," she said.
"I was really excited how it turned out, just knowing how good I've got," McHale said. "It's just really fun to just go and skate and show people what you are made of."